The Bolshevik by Boris Kustodiev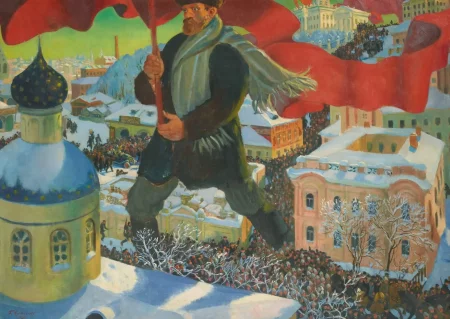 Bolshevik - Boris Mikhailovich Kustodiev
During the Soviet times, Boris Mikhailovich Kustodiev, who was well known for creating pictures of merchant life, started writing works on a revolutionary theme, with one of the best artistic embodiments of the revolution being his canvas titled the
"Bolshevik"
. Trying to express the image of the hero vividly, the master resorted to allegory.
Kustodiev painted this one on a compact canvas 140.5 x 101 cm; however, despite the size, the grandeur of the historical event was well preserved. The master applied the correct compositional solution and painted the first plan of a giant Bolshevik figure against the entire backdrop of an endless rebellious crowd all over the city of Moscow.
Kustodiev also faithfully depicted the subject era, writing a landscape that continues "
February of 1917
". The snow glowing under the sunrays, bare snow-covered trees, blue shadows and a strong decisive step of the revolutionaries instead of the elemental nature force.
Plot
Kustodiev perfectly depicted not only the movements but also the expression of unbending will in the gaze of a sturdy peasant, leading the people. The figure of the giant worker rises just above the houses and churches, "growing" out of the crowd of the rebels.
The church standing before him, serves as the last barrier; however, it seems that the worker would bypass or even step over this symbol of autocracy just as easily as all previous structures.
Interesting fact
In the original version of the painting, the master depicted a deacon and a priest hiding from fear on the church roof. But he later realized that this element would eventually turn his work into a caricature, and thus abandoned the idea.
Painting colors
Boris Kustodiev paid due attention to the color solution: one of the important components of the large-scale people movement is a huge endless scarlet banner, with its color contrasting to the giant and the whole background. The master also
abandoned the decorative coloring
characteristic to his earlier paintings, and used a textured brushstroke, adding tangibility and density to the work.
Since the artist's understanding of the revolutionary movement was naively romantic, he expressed the "element of Bolshevism" in the symbolic image of a strong peasant.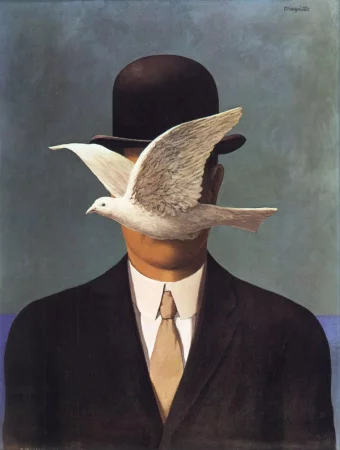 The man in the bowler hat, Rene Magritte
The man in the bowler hat - Rene Magritte. Canvas, oil. 70 x 50 cm...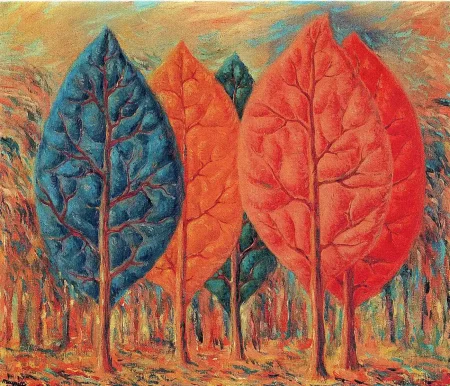 Flame, Rene Magritte
Flame - Rene Magritte. Paper, gouache. 54 x 65 cm...