Description of the painting by Valentin Serov "Portrait of Princess Z. N. Yusupova"
Portrait of Princess Z. N. Yusupova - Valentin Alexandrovich Serov. 1902. Oil on canvas. 181.5 х 133
Princess Yusupova, depicted on the ceremonial portrait by Serov, is magnificent. Secular lady, aristocrat to her fingertips. The dress gives out the exquisite taste and strict adherence to fashion. The princess could decorate the most demanding fashion magazine of the early twentieth century.
It looks like the interior of the room was created specifically for the portrait as it harmoniously complements the model. The presence of the dog in the portrait is not accidental. It has been an integral part of ceremonial portraits since the Italian Renaissance.
The princess in the portrait is lovely and kind. Her gaze is distracted. There is an interesting detail attracting the viewer's eyes: the princess's right hand, which is lying on her knees. Thin, pale, chiseled. Serov painstakingly wrote out this detail, so elegantly revealing the character of Countess Yusupova.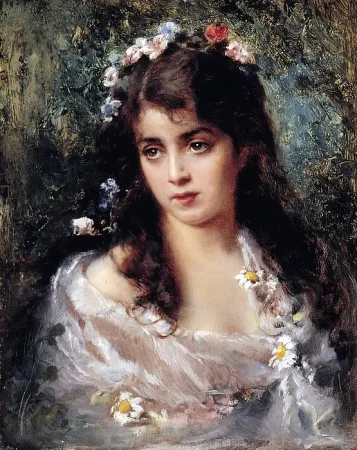 Girl dressed as Flora, Konstantin Makovsky
Girl dressed as Flora – Konstantin Egorovich Makovsky...
The Suppression of the Indian Revolt by the English, Vasily Vereshchagin
The Suppression of the Indian Revolt by the English – Vasily Vereshchagin...