Description of the painting by Valentin Serov "Girl, illuminated by the sun. Portrait of M. Ya. Simonovich"
Girl illuminated by the sun. Portrait of M. Ya. Simonovich. 1888. Oil on canvas. 89,5x71
Experimenting with light are a favorite pastime of the Impressionists. Serov is no exception. The light is the main character of this picture.
A young girl is shown resting in the shade of a tree. The sun rays, at first wandered around the dense crown for a long time and, eventually, breaking through it, scattered hundreds of glares on the face, hands, a light blouse ... To highlight and emphasize the role of light reflections, the shaded objects are surrounding the heroine: a tree trunk, a dark skirt, and her own hair. By the will of the artist, the light passes them by. Mixing with the warmth of the model's soul, the sun rays in the picture turn into a kind of inner flickering of the girl. The portrait features a mystical component.
The heroine of this painting is the artist's cousin. They are familiar, but one can still notice some tension. Serov presents us with his relative with love and tenderness. There is a round face, straight nose, big beautiful eyes. The pose is relaxed. Sunshine and summer are conducive to relaxation and stress relief.
The author succeeded in a brilliant idea – combination of the sun glare, the inner warmth and soulfulness of the model. The number of shades, half-tones, color, and light nuances in the portrait is striking. There is nothing superfluous, every stroke "in line".
Serov's genius lies in the fact that he undoubtedly managed to "catch" the light, convey the feeling of movement and flicker. In this work, the artist's impressionist aesthetics manifested itself in a remarkably strong and talented way.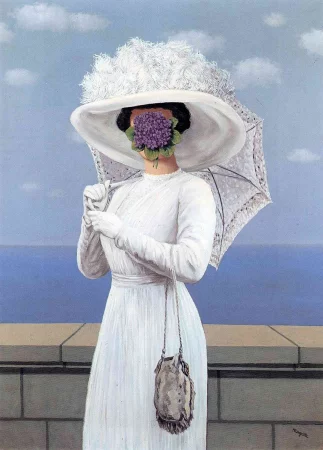 Painting The Great War, Rene Magritte - Meaning and Analysis
The Great War - Rene Magritte. Canvas, oil. 81 x 60 cm...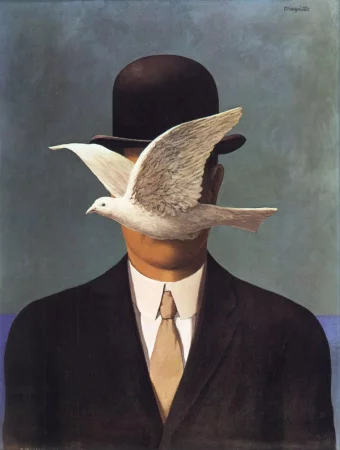 The man in the bowler hat, Rene Magritte
The man in the bowler hat - Rene Magritte. Canvas, oil. 70 x 50 cm...