Portrait of the writer F. M. Dostoevsky, Perov - Description of the Painting
Portrait of the writer F. M. Dostoevsky - Vasily Perov. Canvas, oil. 99.6 x 81 cm
The portrait of F. M. Dostoevsky was painted by V.G. Perov by order of the patron and founder of the famous gallery Pavel Tretyakov. The artist respected and loved the works of the writer, and their views on the world largely coincided, that is why Perov was entrusted with such work.
It is impossible to depict such a great and profound personality as Dostoevsky with no additional preparation. Before starting to paint the picture, Perov talked with the writer for a week and tried to catch the expression on his face with which Dostoevsky was thinking. That was the time when the classic was working on Demons, one of his greatest novels.
In the portrait, the writer is shown sitting in a half-full face. He looks extremely focused, lost in thought, even tense. The gaze is directed away from the viewer - "looking inward" was characteristic of Dostoevsky during his work. Hands are clasped on the knee, emphasizing the isolation of the hero. This pose can also be a reference to the painting by I. N. Kramskoy "Christ in the Desert" of same year.
The background of the canvas is dark, the light falls on Dostoevsky's face and makes him stand out. In general, the color scheme does not differ in variety, allowing you to focus on the skillful use of shadows and highlights, with the help of which Perov shows the writer's thin, haggard face, protruding veins on his arms, the relief of his jacket.
The contrast between the background and the foreground conveys the exclusivity of Dostoevsky, who is close to God, living in a society full of sinfulness, lies, and crimes.
The artist succeeded in the painting so much that the painting was considered, firstly, the best portrait of Dostoevsky, and secondly, the best portrait by Perov. Indeed, such a similarity between the worldviews of the writer and the artist was fully reflected in their creative union.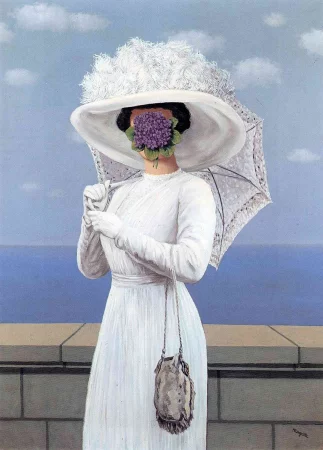 Painting The Great War, Rene Magritte - Meaning and Analysis
The Great War - Rene Magritte. Canvas, oil. 81 x 60 cm...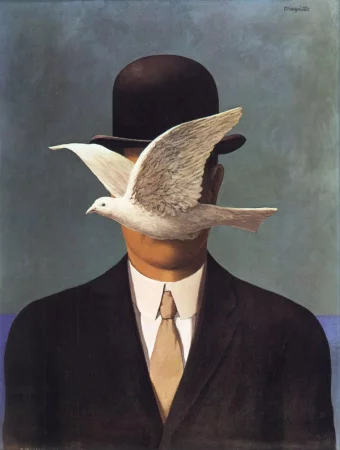 The man in the bowler hat, Rene Magritte
The man in the bowler hat - Rene Magritte. Canvas, oil. 70 x 50 cm...