The Sea. Koktebel, Ivan Aivazovsky - Description of the Painting
The Sea. Koktebel - Ivan Konstantinovich Aivazovsky. Canvas, oil. 83 x 117.5 cm
The painting named "The Sea. Koktebel" was written by Aivazovsky in 1853. One can see the rich and contrasting colors, traditional for the artist, namely a bright yellow orange setting sun, which is pouring its light over the waves and the seashore, thick shadows of massive rocks and green-blue sea and sky colors.
Literally at the first glance at the painting, one gets imbued with its romanticism and the calmness of the evening bay. The powerful sea element has not yet calmed down but is already on its decline. Not too far off the seacoast, a slightly listing ship is visible, resisting the wind and rolling waves, with the flag fluttering as if welcoming the viewer.
At the same time, a feeling of spaciousness is created owing to the sky occupying one third of the painting, where the new half-moon is visible. The waves are slowly washing the sandy shore, approaching the boat left on it. But the fish-tackle lying nearby clearly implies that the fishermen are not worried about losing them because of the tide.
The fishermen themselves can be observed in the distance, having rest in the shade of the coastal cliffs. The sea, as always, has been masterfully shown in detail and, owing to the skillful application of the color scheme, it seems to be breathing with coolness. So clean and transparent, it is virtually glowing in the rays of the sunset.
At the same time, the strong silhouette of the Kara-Dag rock can be observed in the distance, serving as a visual counterweight to the airiness and tenderness of the rest of the painting. But it is still being slightly obscured by a translucent haze, smoothing out the seemingly dramatic power and impregnability of the mountain.
The work combines movement and static in a surprising way. And, while the first one can be well felt in the sun, about to have set below the horizon, the gliding rays, the waves and the ship in them, the second is felt in the images of the seashore, rocks and a small boat.
The painting breathes with a sea breeze and peace, causing a desire for a dep breath and immersion in a serene bliss.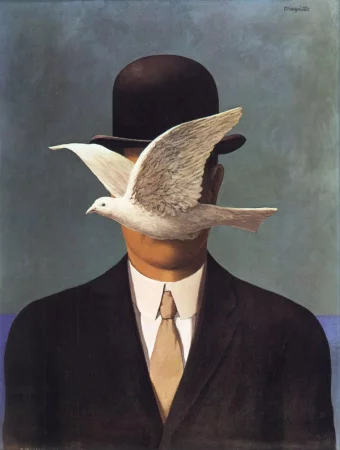 The man in the bowler hat, Rene Magritte
The man in the bowler hat - Rene Magritte. Canvas, oil. 70 x 50 cm...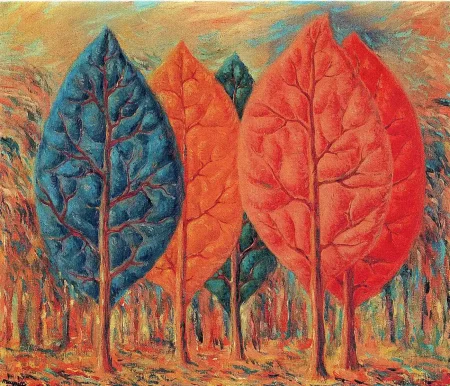 Flame, Rene Magritte
Flame - Rene Magritte. Paper, gouache. 54 x 65 cm...