"Inconsolable grief" by Ivan Nikolayevich Kramskoy
Inconsolable grief - Ivan Nikolaevich Kramskoy. 1884. Oil on canvas. 228x141
The painting impresses strongly as the author managed to avoid depicting strong emotions. The restraint in the expression of feelings makes the atmosphere of the work so rich and sincere.
In front of the viewer there is a woman wearing a mourning dress
. Her tear-stained eyes are full of longing and grief. One hand squeezes a handkerchief, wet with tears, while the other hangs exhaustedly along her body.
Flowers, folded in a box, woven into a wreath, reveal the reason for the inconsolable grief. The funeral is taking place in the house.
The heroine is pale, but stays calm. All tears have been cried away and all tantrums are behind. Her pensive look is filled with such humility, a feeling of her helplessness in front of what happened, that the viewer's heart involuntarily squeezes with sympathy.
The carpet decorated with flowers, contrasting and, in the meantime, in harmony with the funeral flowers, enhances the atmosphere of sorrow.
The background of the picture depicts an ordinary living room: furniture, paintings hung the walls (the seascape is clearly visible, carrying a symbolic load), an extinguished lamp (symbolically emphasizing the death of a person), a table, books. Light is shown entering through the half-open door. There is an emptiness behind the door. The light may indicate that over time the grief will recede, but even so, the feeling of loneliness and emptiness will remain with the heroine forever.
The author uses color contrast, choosing a golden orange for the background to highlight the black color of the dress of the grieving heroine. This makes the impression of inconsolable grief even more tangible and clear.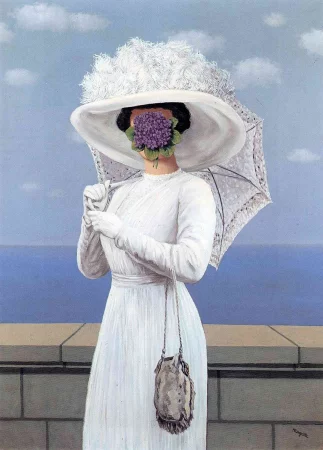 Painting The Great War, Rene Magritte - Meaning and Analysis
The Great War - Rene Magritte. Canvas, oil. 81 x 60 cm...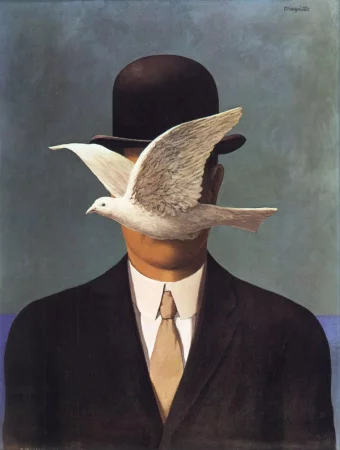 The man in the bowler hat, Rene Magritte
The man in the bowler hat - Rene Magritte. Canvas, oil. 70 x 50 cm...