The carpet seller, Mariano Fortuny - Description of the Painting
The carpet seller is Mariano Fortuny. Canvas, oil.
Here, we will talk about the one of the most wonderful and unsurpassed works created by the talented master Mariano Fortuny! The painting titled the "Carpet Seller" will immediately captivate you with magnificent splendor of the East conveyed by the author! Note that the work is created in the genre of romantic orientalism.
The master of the brush worked on the picture, being greatly inspired. He collected lots of materials on oriental studies as he was fond of Eastern culture, its way of life and people's traditions. The best stories of those collected by the master, were reflected in his works. The subject painting was written in bright and sunny tones, with the color effects energizing and giving a great mood.
The canvas depicted the eastern market with the carpets of extraordinary beauty hanging in the shop. The painter masterfully conveyed their bright and vivid colors. The old salesman bent over the carpet, demonstrating the items to the perspective buyer. The man with the goat stares at him with deep interest. Apparently, he is a musician as he has a mandolin behind his back. The seller's helper on the left assists the shop owner in the trade, playing the old, Arabic melodies on the clarinet to create a pleasant mood for people. The man shown on the right is having a rest, keeping a long stick behind him, listening to the music, and admiring fabulous carpets. It is hot outside, as the sun is scorching. There are stray dogs depicted close to the counter; they came here looking for some food. The sounds of a musical instrument attracted even animals, they listen to her, basking in the sun.
The painting brings light and goodness, charging one with optimism and adding favorable emotional impressions to stimulate the intellectual abilities. The rainbow colors do inspire and bring cheerfulness, creating a nicely exquisite environment, with the color tones and scales leading to romance and dreaming.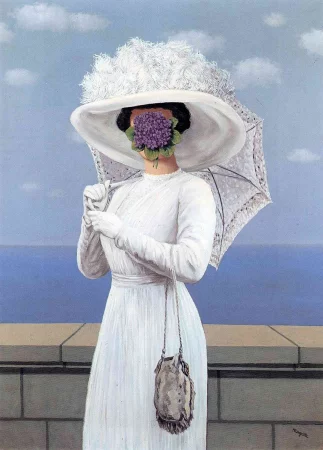 Painting The Great War, Rene Magritte - Meaning and Analysis
The Great War - Rene Magritte. Canvas, oil. 81 x 60 cm...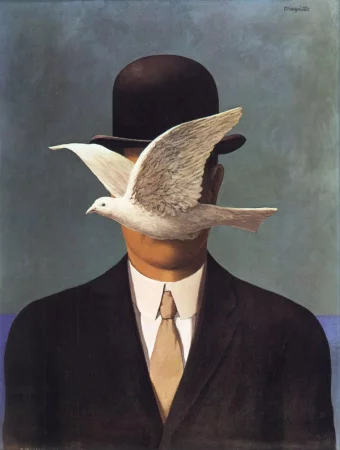 The man in the bowler hat, Rene Magritte
The man in the bowler hat - Rene Magritte. Canvas, oil. 70 x 50 cm...