The Valkyrie's Vigil, Edward Robert Hughes - Description of the Painting
The Valkyrie's Vigil - Edward Robert Hughes
"The Valkyrie's Vigil" by E.R. Hughes is officially considered to be created back in 1906.
The romantic painter depicts a mythical female figure against the starry sky background. From the height of the citadel wall, the maiden-warrior carefully watches what is taking place below.
A girl of heavenly beauty with a majestic stature and a proud posture represents the heroine of the myths Valkyrie. In one hand she holds a slam embellished with the wings and a sparkling spear. Nearby is the harness, from the brilliance of which, as per the legend, the northern lights show up in the sky.
The Valkyrie is called upon to escort the assasinated warriors to the supernal hall, where their souls would continue to perform heroic deeds.
The girl's eyes are turned away from the viewer, adding mystery to the image and helping to avoid a disturbing directness of the sight. The coloring is set by the predominant blue color. The moonlight gently wrapped the beauty's bare shoulders. The image of a beautiful maiden is surrounded by a divine glow.
Blue tonality is inherent in many of Hughes's paintings. Subsequently, the subject feature became almost a "trademark" of the artist. Moreover, shades of blue and azure are peculiar for twilight, which was the author's favorite time of day. It is the time when, in his opinion, the boundaries between night and day get blurred, the outlines of things become unclear, making everything around them seem ancient and mystical.
The paintings by E. R. Hughes, featuring the domination of rich blue-azure colors and often winged images, are his response to fabulous and mysterious legends and myths. The paintings of this kind immerse the viewer in the atmosphere of the soaring freedom and night dreaminess.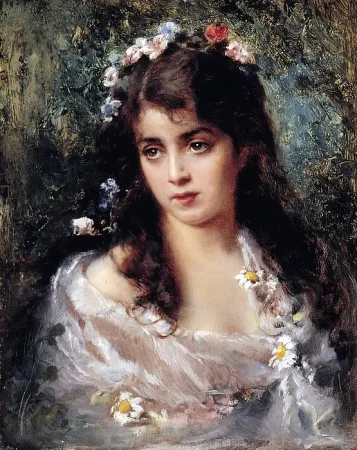 Girl dressed as Flora, Konstantin Makovsky
Girl dressed as Flora – Konstantin Egorovich Makovsky...
The Suppression of the Indian Revolt by the English, Vasily Vereshchagin
The Suppression of the Indian Revolt by the English – Vasily Vereshchagin...