Boreas, John William Waterhouse, 1903 - Description of the Painting
Boreas - John William Waterhouse. Canvas, oil. 93.98 x 68.58 cm
Let us talk about one of the best masterpieces created by John Waterhouse! The painting titles "Boreas" was written two versions. It features the style of Pre-Raphaelite, Romanticism and mythological painting, with the plot being a genre scene.
The talented painter worked on this canvas with great inspiration, idolizing female images and associating them with myths. This was a mystery of a special kind. A true creator should amaze the whole world with his mastery!
Against the background of nature, a girl is depicted walking through the field among the trees. Strong wind blows with its whirlwinds literally closing the clear sky, intensifying the bad weather. The grass and flowers bend under the wind. The girl has a long blue ornamented dress on, and a transparent white cape. She must have been walking in the forest, got caught with the bad weather, and now she has to hurry home. With one hand she is holding the upper edge of her cape, while the other hand is hidden inside the clothes. Her figure bends under the wind gusts. The element has taken in earnest! The young lady's head is tilted down, her eyes are downcast, and we can see a yellow hairpin on her hair. A bird is flying by her side.
The wind is free, harsh and wayward. In the ancient Greek mythology, he is referred to as "Boreas", after the god who commanded the forces of nature; the deity is depicted majestically and dramatically. The almighty wind Boreas is a rakish master. His father is the god Astray, his mother is the goddess Eos, and his brothers are Notus, Eurus, and Zephyr.
The master of the brush did his best to convey the north wind in all its beauty! He applied clear contour images, quick and light brushstrokes, rich warm and cold tones, contrasts, chiaroscuro, and intermediate tones.
Deep in her soul the girl is sad and lonely. The element evokes sorrow, symbolizing obstacles standing on her way. But she will cope with them and overcome her melancholy; she will soon come to a cozy, warm house, where happiness awaits her!
The painting gives perfectly interesting feelings, develops both fancy and imagination, immersing viewer in thoughts and reflections.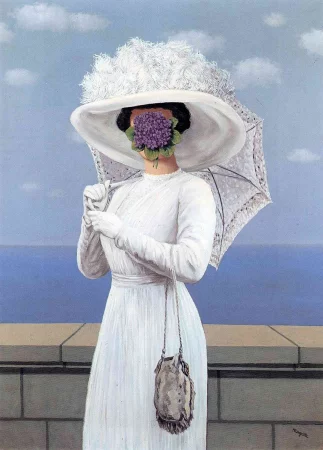 Painting The Great War, Rene Magritte - Meaning and Analysis
The Great War - Rene Magritte. Canvas, oil. 81 x 60 cm...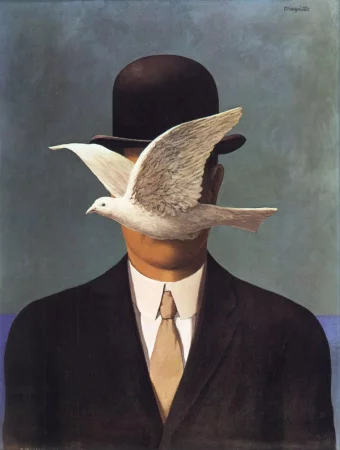 The man in the bowler hat, Rene Magritte
The man in the bowler hat - Rene Magritte. Canvas, oil. 70 x 50 cm...