"The Italian landscape. The Evening", Aivazovsky - Description of the Painting
The Italian landscape. The Evening - Aivazovsky. 1857. Oil on canvas. 108 x 160 cm
In 1857 Aivazovsky wrote the painting "The Italian landscape. The Evening" based on his memories of a trip to Italy in youth. The picture shows the master's walk on Lago Maggiore Lake at the foot of the Alps.
The soft pastel blue, pink and gold tones convey the atmosphere of idyllic romanticism.
Two thirds of the painting are occupied by a bright blue sky with the beautiful white clouds on it, slightly illuminated by the setting sun. The mountains got hidden along the horizon in a translucent haze - not bulky and with no leaden heaviness - only emphasizing the beauty of the sea surface and the sky.
Nevertheless, darker colors are applied around the edges of the canvas in order to convey the slowly gathering evening darkness. The night is still to come; however, the nature has already calmed down anticipation the night and getting ready for sleep.
There is a pleasure boat shown in the center of the picture, as if frozen by the beauty of the landscape appearing in front of the passengers. And actually, this is not surprising, since the artist did depict himself ruling the boat, with his friend V. Sternberg (wearing a straw hat), facing the viewer.
On the right hand one can observe another boat, with her sails of clearly showing the absolute calmness of the weather. Both boats are gliding across the lake surface, like over a mirror reflecting all the details.
The sun rays are playing on the buildings located on a small island midway between the boat and the Alps. Owing to this artistic touch, we can fully evaluate the scale and grandeur of the beauties that were revealed to the artist.
The poetry of the painting is virtually flowing in the air, forming a truly magical aura of bliss and serenity. The early evening splashes in the colors of the picture, capturing the viewer in a gentle embrace not letting go, bewitching with its warmth, which is conveyed in the sun glare on the water surface, as well as in the clouds and on the objects.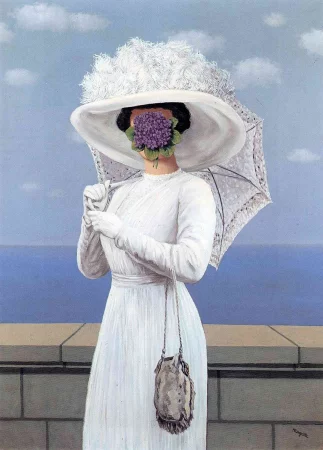 Painting The Great War, Rene Magritte - Meaning and Analysis
The Great War - Rene Magritte. Canvas, oil. 81 x 60 cm...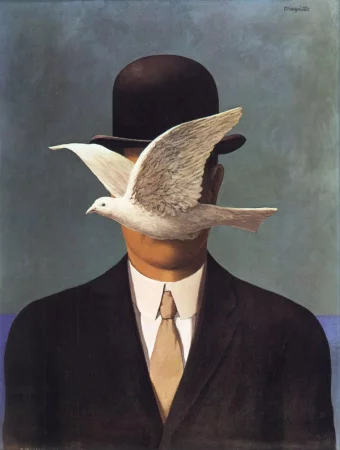 The man in the bowler hat, Rene Magritte
The man in the bowler hat - Rene Magritte. Canvas, oil. 70 x 50 cm...