Snake charmers, Mariano Fortuny - Description of the Painting
Snake charmers - Mariano Fortuny. Wood, oil. 61 x 153 cm
The world-famous artist and orientalist Mariano Fortuny was exceptionally gifted! The master's works with oriental motifs deserve particular attention due to the perfectly skilled way in which he managed to convey all the beauty of oriental culture using the brush and paints. Let us talk about one of his finest artworks, titled the "Snake Charmers". This work realistic work reflects the genre scene of Arab life. It is straight after the creation of this unique masterpiece, when Mariano Fortuny gained so wide popularity.
The painting captivates with a truly fabulous plot! Featuring the bright colors and free brush strokes, contrasting scales and shades, rich watercolor palette, is just charming. The watcher's eye is immediately pleased with a colorful, refined, oriental carpet which is shown lying on the grass, as well as other unusual accessories, all of which are there to enliven the painting and bring the aesthetics of the day-to-day life.
The carpet has the figures of people, snakes, and a bird on it. Two men train a snake and tame a heron. Note that the animals are tame and as such not afraid of people at all. These people are dealing with the spell of snakes, which is the ancient profession came from India. The snakes do obey the people, who skillfully work with the animals, playing the flute. The snake listens to the melody, swaying to the beat and falling asleep, while the spellcasters perform various tricks. The picture shows the people dressed in capes and turbans, staring at a snake and a wild bird, talking to them mentally. The master unsurpassably conveyed the whole oriental exoticism in its absolute perfection. This subsequently made him a recognized connoisseur of oriental culture and a genial painter.
Bringing the love, harmony and goodness, this work is so pleasant to contemplate, reflect, and meditate. We would recommend having it in your living room since it will add even more peace of mind and good mood.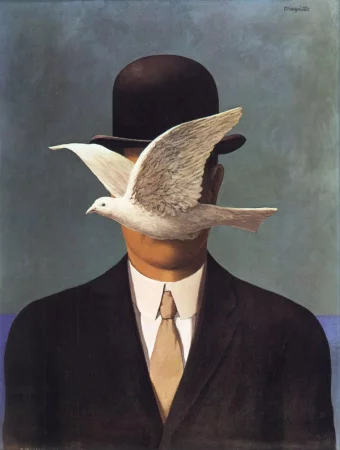 The man in the bowler hat, Rene Magritte
The man in the bowler hat - Rene Magritte. Canvas, oil. 70 x 50 cm...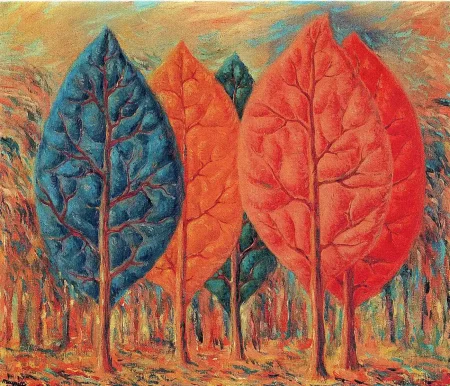 Flame, Rene Magritte
Flame - Rene Magritte. Paper, gouache. 54 x 65 cm...