Portrait of Alexander Pushkin, Vasily Tropinin - Description of the Painting
Portrait of Alexander Sergeevich Pushkin - Vasily Andreevich Tropinin. Canvas, oil. 68 x 56 cm
For a long time, there was no painter capable of accurate conveying of how Alexander Sergeevich Pushkin looked. Everyone added his own something to the image of the great poet and writer, attempting to create a truly romantic one.
By 1827, they finally succeeded to capture Alexander Sergeevich exactly the way he was.
Tropinin and Kiprensky
were the ones to succeed. Although the two portraits significantly differ, they both convey the reality of Pushkin's image. It shall be noted that all subsequent portraits of the great poet were based on their paintings.
Vasily Andreevich Tropinin portrayed Alexander Sergeevich in the manner he liked the most - realistic, but adding some notes of romanticism, happy, but in the meantime calm. Pushkin is depicted on the painting dressed in a gown, which in no way diminishes the significance of the genial creator for all world literature.
Later, Tropinin together with the other well-known portraitists of that time were requested to paint themselves also in home clothing, particularly in a dressing gown. Muscovites were fascinated with the newly introduced genre of "robe portrait".
Sergei Sobolevsky
requested Tropinin to portray Pushkin as he was in real life, in his homely simple image. He used to be friends with the poet and wanted to see the canvas, where Alexander Sergeevich would appear in a calm and discreet form, with no nicely styled hair and an adjusted pose. Tropinin portrayed the poet from life successfully, as he immediately noticed all the features of Pushkin's unusual appearance and prepared an excellent sketch on the very first day of his work.
The history of handing over the completed portrait to Sobolevsky deserves attention. They say that the subject portrait was substituted somewhere on the way, and the original once was found only after some thirty years. Tropinin, who was already an elderly man, did recognized his painting, cleaned it up a and gave it a relatively fresh and high-quality look; however, he did not correct any details, choosing to leave everything as it was.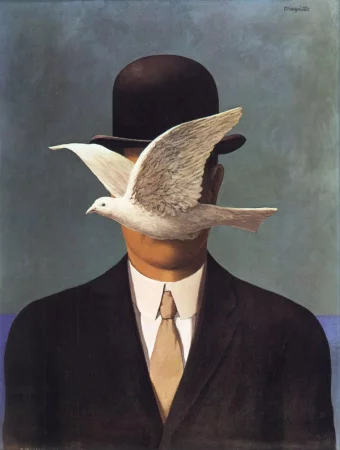 The man in the bowler hat, Rene Magritte
The man in the bowler hat - Rene Magritte. Canvas, oil. 70 x 50 cm...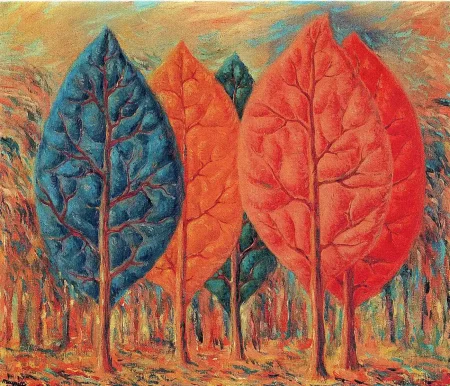 Flame, Rene Magritte
Flame - Rene Magritte. Paper, gouache. 54 x 65 cm...